This material originally appeared on the iShack Facebook page. 

The Longlands community is a small group of households living in informal dwellings on the outskirts of Stellenbosch in South Africa's Western Cape. The South African SDI Alliance has been working with the community since 2016 and is providing support to address their needs for basic services. Recently, the Longlands residents visited the community in Siqalo to see how Solar Home Systems (SHS) work. Following this visit, they decided to pursue the installation of SHS while they wait to be connected to the formal grid. It was at this point that the SA SDI Alliance and the Longlands community began to work with iShack to develop a plan to jointly provide solar electricity service to Longlands.

First, the community established a savings group, saving incrementally to generate financial contributions towards the cost of SHS for each household. In addition to these savings, the SA SDI Alliance provided grant funding and highly subsidised loans to each household to finance SHS installation.

As a result of these efforts, each household has now received a Solar Home System that powers lights, a television, and charges cell phones and other small media devices. Longlands is close to iShack's operational base in Stellenbosch and a regular schedule of maintenance and monitoring, including a dedicated Hotline service for reporting any issues and bi-monthly drop-ins, has been planned. Maintenance is often neglected when offering technical solutions to low income communities, but the community-driven process implemented jointly by iShack and the SA SDI Alliance is all about sustainable maintenance service in order to ensure maximum durability and reliability. Capacity building and green skills development for local residents form part of the project, adding a job creation element to the project that enhances community ownership, resilience, and project sustainability.

[caption id="attachment_12552" align="alignleft" width="600"]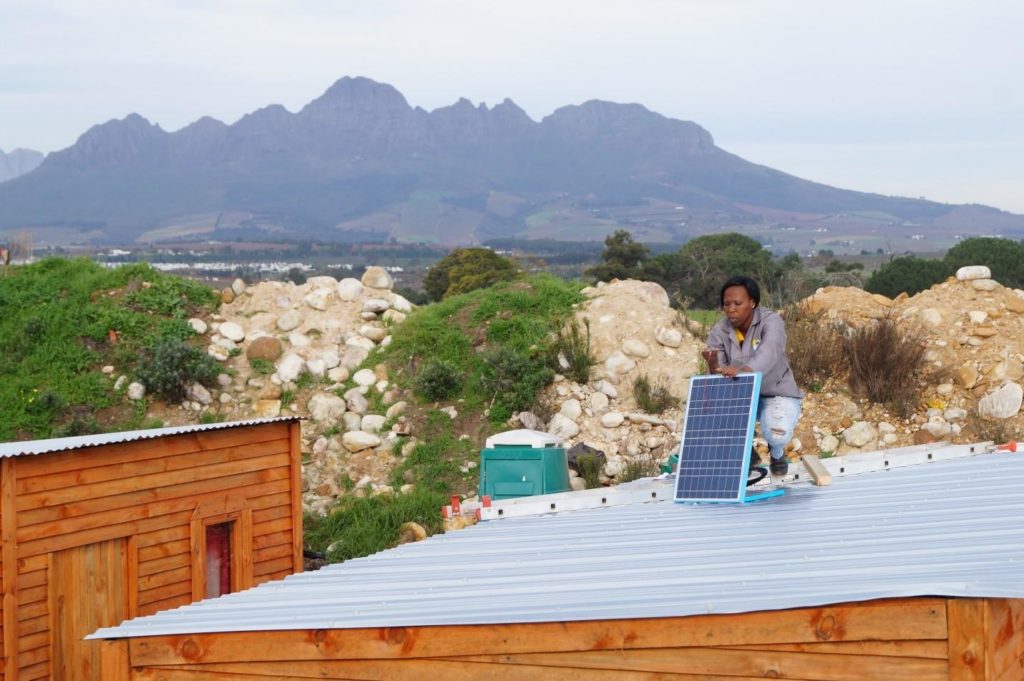 Solar panels being installed on a shack rooftop.[/caption]

At this point there appears to be only one major challenge: the community continues to await agreement from Stellenbosch Municipality to subsidise the ongoing maintenance and monitoring of the energy service – a subsidy provided to the 1500 households in the nearby community of Enkanini. Fortunately, the existing agreement between iShack and Stellenbosch Municipality makes provision for service extension to new communities, so there is reason to believe that the Municipality will agree. Longlands residents have submitted a formal request for this support and are waiting for a final answer.

In the meantime, SHS installations will continue. Last week, an Induction Workshop was held for the community, explaining the ins and outs of the SHS to residents and ensuring residents know how to get the most out of their new technology. Two additional pilot systems were also installed.

[caption id="attachment_12555" align="alignnone" width="600"]
Longlands community learns about the iShack technology.[/caption]

Although this is a small community project, it represents an important development for a service-delivery model in which communities – partnered with technical service providers and supported by capacity-building organisations like the SA SDI Alliance – take active steps to meet their development needs.
---
Learn more about the iShack project here and the South African SDI Alliance here.