By Kevin Kinuthia
My mother, Jane Nyokabi, loves growing her own food. The problem was that we lived in Nairobi, the LandiMawe (Place of Hard Rocks), as many Nairobians call it, where growing food produce was almost impossible. Urban areas have become increasingly dense and land—a scarce resource in African cities. Many Kenyans moving to cities looking for employment had no other possibility than take residence in shanties and shacks.
The inability for the majority of people—especially youth—to claim land for growing food, the high unemployment levels and the low earnings, left residents in informal settlement food insecure. Despite the high number of food vendors and kiosks in the informal settlements it is impossible for the majority to maintain a healthy diet.
The questions that beg answers are then how can slum upgrading efforts like the Kenyan Informal Settlement Improvement Project or the Kenya Slum Upgrading Program, support economic development and job creation to guarantee a stable access to nutritious food for the urban poor? Or would it be better to upgrade water and sanitation within informal settlements?
Waiting for the answers to these questions, the youth, organized into groups ought to take matters into their own hands. Youth need to shelve the need of a white collar job and engage in urban farming, but due to the continuing increase in population density of these areas, vertical gardens are the most popular choice. So when walking in Mathare, Mukuru and Kibera you may easily spot big black sacks sprouting green leafy vegetables. These are the gardens, disposed in unoccupied land, that are providing vegetables to low-income communities.
But this idyllic dream of urban agriculture does not come without complications—mainly food safety. News bulletins reported that the soil and water quality in which vegetables are grown can be contaminated with heavy metals or with raw sewage bringing short and long term health risks to the population.These reports can scare off local buyers and dwarf the possibility of expanding the reach of these produce to markets outside the informal settlement.
As urban farming increases its importance in Nairobi's slums, there is need to mitigate environmental hazards and eliminate contaminations to ensure the produce is fit for consumption, hence making this form of trade viable. If this were to become reality, and the vegetable quality was to become stable and controlled, numerous income opportunities could open up opportunities for urban poor communities. For example, urban farmers in slums would have the possibility to link up with organic food outlets outside the settlements to market their produce. Or perhaps the Nairobi County government would decide to continue engaging urban farmers and street food vendors to shape regulation on the use of the city's public spaces and rooftops for urban agriculture.
After so many years, I find myself in my mother's shoes. Fearing poverty and the lack of a steady source of income I fully understand the uphill task of providing food for our city.
A backstory inspired by the TV drama, "24". 
By Jack Makau, SDI Secretariat
3:56 PM Friday 30th January 2015
Jane Weru, Director of Kenya slum dwellers financing facility, Akiba Mashinani Trust gets a call on a number she does not know. The caller says "this is Charity Ngilu". It is Kenya's Cabinet Secretary for Land, Housing and Urban Development. "With me I have the former vice president of Spain, who is in Kenya on an official visit." "She is interested to meet with grassroots women in Kenya and I remember your Muungano women with head scarves coming to see me in my office". "I'd like her to meet with them tomorrow." Jane says a visit can be easily arranged and the date is set.
4:21 PM
Rashid Mutua, Chair of the Kenya slum dwellers federation, Muungano Wa Wanavijiji meets Jane Weru at the federation offices. With him are the leaders of a greenfields housing project to house 2300 slum families. They have an appointment to meet the head of the slum improvement program of the National Youth Service (NYS), a para-military division of government that undertakes development projects.  NYS want to use the land set aside for the greenfields project to put up a camp for their engineering battalion. The battalion will put in infrastructure that benefits the Mukuru slums where the greenfields project is located. On their side, the greenfields project leaders want a letter recognizing the use of their land from NYS.
4:30 PM
Kenya Airways Flight 765 from Accra is touching down at Jomo Kenyatta International Airport, Nairobi. On board is Joseph Muturi – national leader of Muungano and board member of Shack Dwellers International. Muungano's driver Karanja is at the airport to meet him.
4:31 PM
With no driver at the federation offices, Jack Makau, Administrator of the professionals who support Muungano is co-opted to drive the team to the NYS headquarters. He joins Jane, Rashid, and the project leaders. On the drive there, Jane asks Rashid to call the residents of Huruma slums and let them know that she will be visiting the next day with the former vice president of Spain, who is interested to meet the women in the settlements.
6:05 PM
There is stalemate between Mr. Makokha, NYS Head of the slum improvement program and the greenfield's project leaders. Government will not give them a letter recognizing that they have allowed use of their land for an NYS camp. The leaders are threatening to kick out NYS from their land. Jane steps out of the meeting to pick a call.
8:21 PM
The meeting with NYS has reached an amicable conclusion, where NYS will set up camp and in return will landscape the land, fill a 100 meter deep disused quarry on the land and fix the broken borehole, even as they work on other infrastructure in the Mukuru slums. Once in the car, Jane informs Rashid  that the Cabinet Secretary had called again to say she will be accompanying the Spanish delegation and she also wants to meet Muungano women.
9:05 PM
Rashid, who has not made it home to his settlement in 2 weeks checks into another bed and breakfast in the center of Nairobi. He places a call to Joseph, who has been home for less than 2 hours since arriving from the airport. Rashid wants Joseph to organize 500 head scarves for Muungano women, to be delivered in Huruma slums at 9 am. Rashid then settles down to place calls to slum settlements to get 500 women to go to Huruma by 10 am.
Saturday 31st January 2015
2:34 AM
40 kilometers away from Nairobi hotel, five women are hanging out to dry 500 white head scarves with "Muungano" written in bold green letters. They have been hand pressing the wording since Joseph called.
6:17 AM
Jack is setting off from home on his bicycle to join other bikers for a group ride. He plans detour at 1: PM to meet Jane and drive her to Huruma slums where she will meet the Cabinet Secretary.
9:20 AM
398 kilometers away from Nairobi, Erickson Sunday, National Muungano Leader in Kisumu City is sending $1000 on mobile money to Rashid to pay for the transport for Muungano women coming to Huruma. The first group of women from city slums are just arriving in Huruma. Instead of the 30 women expected in this group, 56 women have shown up. Rashid is hoping that the other slums are going to stick to the numbers he asked for. The budget to support their transport and lunch is stretched.
11:30 AM
Jane calls Jack and says that the rendezvous with the Cabinet Secretary is at the Kempisky Hotel, one of Nairobi's newest and most luxurious hotels. Meanwhile, Rashid is relying on the women leadership to organize lunches for the now over 500 women that have arrived in Huruma.
1:30 PM
At the lobby of the Kempisky Hotel, Joseph is wearing what he describes as he's best Italian SH*T and Jane is in a floral flowing African dress, Jack in sweat socked biking shots and tight T.Shirt. All sitting across the Cabinet Secretary, who is perfectly dressed in white slacks and Armani sunglasses. They are discussing construction cost per square foot of low cost housing and how to set up a government and community  savings national housing fund.
1:42 PM
The Spanish delegation arrive at the Kempisky Hotel.
1:51 PM
Joseph has been asked to enter the police vehicle leading the official delegation so he gives the direction to Huruma Slums. The siren lights are already whirling. Jane has gone into the forth car, a huge SUV, together with the Cabinet Secretary and the Spanish former VP. Jack has unyoked the wheels of his bike and put the whole thing in the boot of Jane's car. He plans to chase the official convey and not get caught in traffic.
1:52 PM
Rashid calls Joseph to ask which of two Huruma slums they should the start with. Meanwhile women from 3 of the Huruma slum that will not be visited are up in arms protesting to Rashid.
1:53 PM
The convey starts to snake its way out of the hotel. Jack, at the back has pulled out too, but is speaking on phone with Rashid, who is reporting that media trucks are appearing everywhere. Jack doesn't see the kerb at the hotel and the wheel hits it hard. The tire deflates.
1:54 PM
In Huruma, words are flying. Women from the settlements that will not be visited versus the women from slums in other parts of the city. Rashid walks away and leaves them to it. He goes to inspect the housing sites where the Cabinet Secretary will visit. In formul-one pit-stop style, Jack's car is lifted by security and placed on a jerk and the tire changed and done before the sound of the convoy's receding sirens completely fades. Jack has lost the convoy and is soon engulfed in traffic, inching towards Huruma. He's lost the initiative.
2:21 PM
As the Cabinet Secretary alights from her car in Huruma, Rashid who is positioned to meet the delegation, is elbowed out of the way by the women reaching to witness the arrival. He is now 5 rows behind the women and he has lost the initiative. Jane, the Cabinet Secretary, and the former vice president are slowly making their way to a block of houses still under construction.
2:21:30 PM
Joseph has jumped out of the police car, hoping to get into the main delegation. He's 6.4 frame can be seen above everyone else, powering he's way through a sea of women.
2:22 PM
One of the women in the welcome party whips off her Muungano scarf from her sweating brow and lurches to the Cabinet Secretary and starts to tie it on her head. The seasoned politician, bows slightly and allows her to knot it. Jane flinches but keeps her smile. Taking cue from the action, the women are now adorning the entire delegation in wet scarves. The Spanish VP's daughter has a look of sheer terror on her face.  Muturi, sees that the women have taken over and let's go. He too has lost the initiative. He is quickly embroiled in an argument with the brooding ladies at the back whose settlements will not be visited.
2:23 PM
Susan, former chair of Kambi Moto, the second upgrading site in the visit –   smoothens the seat clothes in her houses and rearranges the plastic flowers on her coffee table. The Cabinet Secretary will soon be visiting her house.
2:25 PM
The Secretary has made her way up to the roof slab of one of the houses. The crowd of women and hundreds of onlookers are ecstatic. The women are singing federation songs, there is cheering. Security has totally been disabled by the crowds and Jane is looking around frantically for someone who can bring some order. Two women she doesn't ever remember seeing are explaining how they save and how they construct incrementally. The Secretary looks pleased.
2:46 PM
The Secretary's security detail has established a path for the delegation to leave the site. As they walk the women are waving their savings passbooks and singing. A passbook is thrust to the Secretary's face. She stops and takes it. Jane's heart skips a beat. The book is actually a stack of passbooks taped together and covered in clear cellophane. The Secretary opens the passbook and examines it. Jane moves closer to see what the book says. In ten years the lady has saved $2500. The Secretary starts to walk again, still holding the book. After a few quiet steps she turns to Jane and says, "We are going to do something big, very big, with your women!"
2:48 PM
It is clear the delegation doesn't want to get into their cars. They are walking the kilometer to Kambi Moto, the next site. Cameras are being hauled along, and the media trucks with dishes on their roofs are revving but cannot move. There are women everywhere.
2:51 PM
From the doorstep, Susan knows the moment has come. She can hear singing and cheers nearing. Joseph, sees Rashid in the throng. He makes his way to him. Rashid sees Joseph and smiles resignedly and says, "I think our work here is done".
2:56 PM
The delegation arrives in Kambi Moto. They slowdown to shake hands with a fresh group of welcoming ladies. Someone notices that the former vice president of Spain and her daughter are nowhere to be seen. The security detail scramble – tearing through the crowd in all directions.  Jane wants to scream. The Secretary looks completely at home.
3:02 PM
The Secretary is ushered and walks into Susan's house.  Susan takes charge and replaces Jane.
3:03 PM
The Personal Assistant to the Secretary sees Joseph and calls him over. He says, "If you can get close to her, tell her the media are going to ask about the Wilson School scandal".
3:10 PM
News of the Spanish delegation comes in. Women from one of the settlements not in the itinerary diverted her and took her to their settlement.
3:12 PM
The Secretary recognizes Joseph when he brushes his way to her side. He delivers his message. She asks, "What Wilson scandal?" He answers, "Where it is rumoured that the vice president has grabbed land belonging to a primary school". She smiles and focuses back.
3:14 PM
Jack finally drives into Kambi Moto.
3:54 PM
The Kambi Moto visit is coming to an end. The Secretary is going to address the media and leave. She says, "The president doesn't know about this work Muungano has done". There are loud cheers. It's almost inaudible when she adds, "I'm going to bring the president here!"
3:56 PM
The visiting delegation enter their cars.
EPILOGUE
7 Hours After. Chelsea FC are playing Manchester City in the English Premier League. The match is watched by less slum dwellers in Kenya than is often the case when big matches like this take place. On this day, the 9 pm news broadcast is far more important for them.
19 Hours After. Jane is making breakfast for her family. Her phone rings. The Cabinet Secretary says to her, "I am going to see the low cost housing the government has built. Will you come with me?"
168 Hours After. Jane's phone rings. It goes unanswered. She left it by her bedside when she left for work 2 hours earlier.
177 Hours After. Jack catches a flash of the 7 pm evening news. The Cabinet Secretary was back in Huruma. She declared that the government was going to issue land tenure certificates to the residents of the Huruma slums.
**Cross-posted from the Muungano blog.**
By Alice Slverdik and Shadrack Mbaka
Muungano wa Wanavijiji, the Kenyan federation, began a pioneering Strategic Planning process last November, with leaders from across Kenya sharing their personal histories with the federation and developing a shared vision for the future. At a 3-day workshop in Nakuru, participants discussed how to continue strengthening Muungano and how to achieve improved shelter, services, and visibility for the urban poor. This is the first time that Muungano has spearheaded its own 5-year Strategic Plan, and the process will expand next year with broader participation from members nationwide.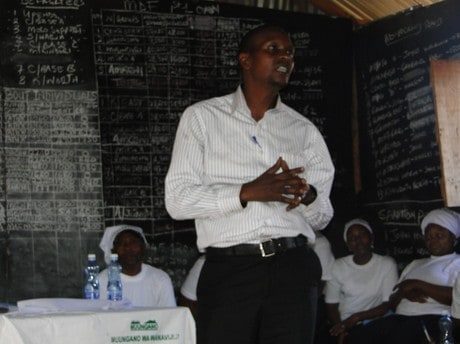 Rashid Mutua, Muungano was Wanavijiji National Chairman said, "We seek this forum to enable the federation to draft a strategic plan to support fellow slum dwellers to re-work their vision and mission in the urban development sphere and we look forward to having healthy reflections and an inclusive participation process."
Facilitated by staff from Uganda's support NGO ACTogether, the workshop provided the opportunity to learn from the Ugandan experiences and to reflect upon Muungano's diverse paths. Both new and old leaders shared their journeys with Muungano, which helped reveal the federation's multiple changes over time. Leaders differed widely in their initial experiences with Muungano: some emphasized land and housing, others sought to improve services or markets, and still others focused on advocacy. Shifting from anti-eviction campaigns in the 1990s to a broader, long-term vision, Muungano has constantly evolved and emerged as a confident movement that is eager to tackle ever greater challenges.
Jack Makau of Slum Dwellers International, who also doubled up as a process facilitator, expressed a positive course for the federation, "This has been a dream for the federation. This strategic planning process offers a platform for the federation to discuss its intended plans and indeed it is a blessing that we are seated together to have a voice of reason. Settlements have dynamics; donors may have varied opinions of informal settlements based on their augmented priorities. But in my own opinion, settlements are amazing, especially in their manifestations. The urban poor are housing half of cities' populations. The urban dwellers are the problems and also the solution. This opportunity has presented itself for the federation to be the solution seekers".
Participants take a gallery walk of some of the priority objectives that participants have proposed for the federation to consider in its strategic plan.
During the workshop, leaders engaged in vigorous debates over Muungano's future and began developing a range of innovative strategies. Participants discussed key policy priorities, how to mentor new Muungano leaders, and the need for engaging with county governments (including leveraging funds via ongoing devolution reforms). Additionally, the leaders helped draft new vision and mission statements for Muungano, reflecting thoughtfully on core values and affirming their commitment to inclusive urban development. During future sessions, Muungano members will refine these statements and craft specific milestones, work-plans, and strategies for the next 5 years.
More than just a priority-setting exercise, the session also helped reinvigorate the federation's spirit and uncovered vital new ideas. Participants gained useful lessons from Uganda, such as the importance of creating innovative organizational structures and documenting community processes. The planning process itself was also deeply affirming and inspiring for all who participated. "The process was so captivating, so inclusive, I value it as a precious thing that we will be able to safeguard and protect for the rest of our lives," said Erickson Sunday of Kisumu. With its path-breaking Strategic Plan, Muungano will create additional opportunities for shared reflection and growth as this dynamic movement continually redefines its future.