With no electricity, kids study under a street light at night. 
**Cross-posted from the SPARC/MM/NSDF blog**
If you can read this, you're not affected. For most urban dwellers electricity is available at the flick of a switch, to power our numerous appliances from our coffee machines to our computers and TVs, but not for all: many of the urban poor still have no access to electricity although the power cables are literally just two meters above their heads.
In the new Energy Justice program of SPARC we have just recently started a survey in order to better understand the needs and problems of the urban poor related to energy. Last week we have been at a settlement of pavement dwellers next to the Western Express Highway in Goregaon, Mumbai who have lived there for at least the last 10 years. Although none of the households have access to electricity, they have energy expenditures between 300 and 750 Rupees per month just to be able to illuminate their homes in the evening with candles and to charge their cell phones at the next kiosk. This costs them between 10-15 Rupees daily.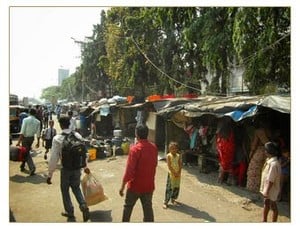 Pavement dwellers at Goregaon Western Express Highway. 
It is hard to believe, but most of Mumbai's households have to manage with less than a dollar per day per capita, some of them even with half a dollar. It's no wonder then that these households seek to avoid spending any money where it is not absolutely necessary and therefore cook their meals on traditional three-stone-stoves. Because most of the men work as casual laborers and are out of the house, it is the task of the women to collect the wood which lasts between 1 and 2 hours every day. Cooking with open fire or on three stones is not only time intensive but also health threatening as the smoke causes respiratory diseases. And this is not done with a cough – the Worlds Health Organization (WHO) estimates that annually more than 4 million people die because of cooking with solid fuels, of which 50% are children below the age of 5. (http://www.who.int/mediacentre/factsheets/fs292/en/)
We have started our new Energy Justice program in order to develop solutions jointly with the urban poor that will provide better access to modern energy and reduce costs. We will keep you updated here about the further development of this project.
Author : Vincent Moeller is working for SPARC as an advisor on Renewable Energy and Climate Change since June 2014.