Langrug informal settlement hosted an SDI-AAPS studio this past year.
By Noah Schermbrucker, SDI Secretariat
Last week's 5 Cities Seminar focused on building relationships; relationships between urban poor communities and government, between federations of the urban poor in different cities who face similar, yet unique, challenges and between the formal and informal worlds that shape rapidly urbanizing cities. Throughout the conference, urban planners from the African Association of Planning Schools (AAPS) have joined communities and officials to learn about incremental informal settlement upgrading.
Partnerships with university planning schools can produce tangible results and leverage resources for urban poor communities. Over the past year, AAPS and SDI have facilitated a number of planning studios (In Uganda, Cape Town and Malawi) with various outputs (e.g. settlement-wide upgrading strategies, circulation and infrastructure designs, and detailed maps of previously undocumented settlements). The studios have started to remove planners from the comfort of their offices and challenged antiquated norms and standards, ensuring a serious engagement with urban poor communities. These engagements need to be sustained and not once off interventions so that their value is not significantly diminished.
On the third day of the 5 Cities conference, planners from across Africa held a separate reflection session where they received a detailed brief on the Cape Town planning studio which took place in the beginning of 2012 and discussed the other studios that had taken place in Kampala and Malawi. The Cape Town studio, a partnership between the South African SDI Alliance and The University of Cape Town has taken place for the last two years. The 2012 studio was a 6-month engagement with Langrug, the informal settlement that the 5 Cities delegates visited on day 1 of the conference.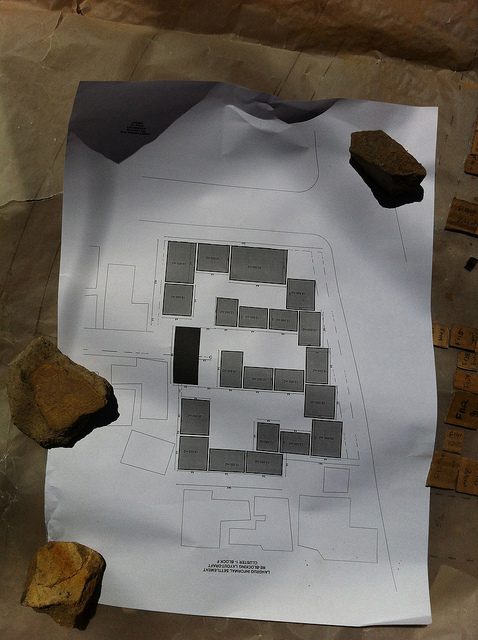 Students with backgrounds in urban planning and architecture worked with the community to produce upgrading plans for the settlement to be used by the local municipality with whom the community already has an MoU. A significant challenge is what actual impacts such long terms plans have, and if more immediate short or medium term plans would have led to more immediate results for the community, rather than grand scale long term visions.
Further discussions ranged across a number of studio related topics, including what type and level of students have worked on the studios, how studios should become sustainable permanent fixtures in the curriculum, the importance of drawing in government officials to maximize political capital and momentum and how the studio, in a dialogic engagement between community leaders and students, should set community priorities and have tangible outputs.
An important point raised by Professor Mtafu Muanda from Malawi was about working in communities that do not have a large SDI presence. He related how the planning studio in Salisbury Lines, Mzuzu had worked with a much larger community and there was a relatively insignificant SDI federation. He explained that for a studio to be effective it had to draw in the whole community and not just a select group of federation members as this fragments the community and might undermine traditional leadership structures. In the case of the Blantyre studio, the Federation used the studio to mobilize the larger community and make them aware of their activities. The traditional leadership structure, and their buy-in into the studio, also assisted greatly with making the studio a community wide process.
Images from the SDI-AAPS Studio at Salisbury Lines settlement in Mzuzu.
In addition, new studios were mooted, especially outside of South Africa, for the upcoming year. In Tanzania preparations are already underway for a collaborative studio between the SDI affiliate (CCI – Center for Community Initiatives) and Ardhi University; a Namibian studio will take place later in the year and the possibility of a studio in Zimbabwe was raised. The point was stressed that such studios need to become a part of the curriculum and not singular events.
Just as planning does not occur in a silo, separated form local contexts of informality, neither does the shaping of a city. The links between legislators, planners, implementers and communities are evident, although all too often not given enough consideration. Because of these links, it makes sense that AAPS planners form part of the 5 Cities programme and learn about informal settlement planning and upgrading, themes that are relevant to experiences and conditions of informality in South Africa and across the African continent.
Building relationships between planners and urban poor communities is an important part of SDI's ongoing efforts to link the formal with the informal. There is certainly a space for planners within such partnerships, as long as they are positioned not as "top down" professionals but as co-learners who work with the community to produce tangible results based on community priorities and grounded reality.