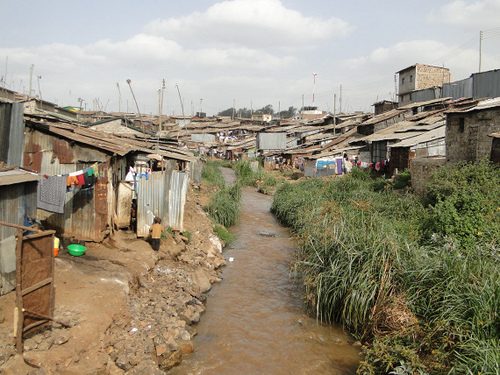 **Cross-posted from the MuST blog**
By Shadrack Mbaka, Muungano Support Trust (MuST), Kenya
Muungano wa Wanavijiji has been mobilizing and positioning saving schemes groups within its umbrella on the concept of collective group savings to spur up housing development and upgrading. In efforts geared to empower the structural development framework of the federation in addressing the needs of the poor, savings are often restricted to their own small extra income which may be contributed in a small spread ways.
In Kenya today housing finance institutions such as the Housing Finance, Jamii Bora and other major housing credit organizations have the mandate to support low-income groups and give them low interest loans to build or improve their homes. Unfortunately, most of these institutions have conditions of institutional guarantee for the loans that are not easy to fulfill by slum dwellers in Kenya. While, on the other hand, mainstream commercial financial institutions give loans to recognized and salaried individuals, which in most cases need to be accompanied by tax returns and land documents as collateral for loans.
In the Kenyan development and upgrading scope this has remained a major challenge. Unlike upgrading, redevelopment is capital intensive. The Kenyan housing and development policies are major proponents of slum redevelopment, with the aim of attracting private finance, a good example being the Kenya Informal Settlement Improvement Programme (KISIP) and the Kenya Slum upgrading Programme (KENSUP). The Kenya Slum Upgrading Programme (KENSUP) is the result of a meeting in November 2000 between the then President of Kenya and the Executive Director of UN-HABITAT at which the Executive Director offered to spearhead a slum upgrading programme for Kenya starting with Nairobi's largest slum, Kibera. The programme was jointly funded by the UN-HABITAT, The World Bank, Cities Alliance and the Government of Kenya. The Grant agreement was signed in July 2002.
The objective of the programme is to improve the overall livelihoods of people living and working in slums through targeted interventions to address shelter, infrastructure services, land tenure and employment issues, as well as the impact of HIV/AIDS in slum settlements.
Slum upgrading has remained a challenging redevelopment agenda, since the urban poor living in poorly serviced settlements have been cut out of the conventional development finance sources hence forcing them to rely on donors and private sources. The high cost of financial credit and the high interest rates are locking many Kenyans from affording housing.
With lack of government subsidy, credit to the urban poor remains a pipe dream to many home seekers and widens the gap for civil society actors, such as Akiba Mashinani Trust, SELAVIP, and SDI (among other stakeholders) in reaching out to millions living in urban poor settlements.
NGOs such as Muungano Support Trust (MuST) and Akiba Mashinani Trust (AMT) have been involved in organising and mobilising people living in informal settlements and forming savings groups. This has been a key embodiment in ensuring that the urban poor get access to affordable credit to attain secure tenure and proper housing. Such initiatives have attracted international funding from agencies such as Shack / Slum Dwellers International (SDI), donor and development agencies and community focused trusts that offer low interest loans.
In developing economies like Kenya housing is an expensive project venture. Communities who never imagine getting affordable credit services have only one option – the slum. Major metropolises, from Nairobi, Nakuru and Mombasa to Kampala, Jinja, Mbale, Dodoma and Dar-esalam are bombarded with high costs of living. These cities need a special focus from central governments to address the levels of abject poverty. In Kenya, Muungano wa Wanavijiji has begun "resettling" their members in habitable dwellings through greenfield and housing improvement projects. Slum dwellers are able bodied citizens with the power of ensuring transformative settlements by rehabilitating the housing units in the same place.
The greenfield concept involves communities pooling their resources to purchase pieces of land to put up better housing units. This concept aims to address the complex problem of space inadequacy. In most dense urban poor settlements, packed houses occupy almost the entire plot, leaving little room for upgrade. Most slums in Nairobi and its environs are an outcome of a slow, incremental, internally driven bottom-up process that mixes residential, commercial and industrial units.
Cost Effective In-situ Slum Upgrading Approach
A people-centered action approach ensures continuation of their current diversity, retains the existing community networks as well as economic activities intact. A bottom-up process is demand driven and so, incremental. The involvement of slum dwellers in the development process ensures that they identify the outcome and this emotional attachment can lead to better maintenance of the new housing. Consequently, upgrading becomes cheaper and easier to implement. Independent development upgrading can be an uphill task, so groups of dwellers often get together to collectively upgrade their own houses.
Muungano wa Wanavijiji and Muungano Support Trust, through the SELAVIP, has implemented housing improvement projects in Nyamarutu, Kiandutu and Mibuyu Saba settlements in Nakuru, Thika and Kilifi municipalities. These projects are purely based on the in-situ concept. These projects are in partnership with the respective county governments and have served as precedent setting projects in these localities. Muungano's key objective is to drive the in-situ approach in people's settlements. This ensures the use of simple and affordable building technologies based on the community attested building plans, designs and codes. The federation, Muungano Support Trust and collaborators such as the municipal planning departments are researching new building technologies which seek to drive down the cost of building and benefit most community members. Ministry of Lands and Housing is currently opening its doors to new housing and building innovations to drive down the costs of housing.
Federation control of housing construction allows a variety of cost-reducing measures to be introduced, such as a smaller houses, cheaper materials, fixtures and finishes, and staged construction. However owner-building offers the greatest cost reduction potential. This potential may be reduced by the owner-builder's materials and labour prices, any income foregone, and an extended building time. The cost implications of purchasing a speculative house, a project house and owner-building are calculated, showing that owner-building has real advantages by reducing the loan amount, the repayment level, and the total interest paid.
Demographics continue to soar higher every day and, as a result of rapid urbanisation, housing and infrastructure demands pose a major challenge. There is urgent need to propagate and popularize cost effective options in large scale housing initiatives and introduce appropriate interventions to close the gap between availability of these technology options and applications to the same.
However, the housing needs of low income groups continue to face difficulties with the rapid increase in construction costs due to rise in input costs for steel, cement, labour and other building materials.