SDI is excited to announce the upcoming 2019 SDI Week, The Amsterdam Sessions. This is the second annual week of events organized and hosted by SDI. This gives SDI the chance to talk to entrepreneurs, politicians and professionals, on their own terms rather than as guests at someone else's party, where the urban poor are so often regarded as ornamental, forced to speak on topics form other people's agendas. Instead, as hosts and experts of their own event, SDI's leaders can present themselves and their message for what it is: an integral and indispensable part of the solution to our global problems.
Join us from 7 to 10 October when SDI will be coming to Amsterdam and The Hague. To register for events, visit The Amsterdam Sessions website today!
---
Jockin Arputham Memorial Lecture: Urban Social Movements and Voices from Below
7 October, 13:00 – 15:00
Join SDI and friends to pay tribute to Jockin Arputham, the late co-founder and president of SDI. Jockin was a Nobel Peace Prize nominee who fought for the rights of slum dwellers for over 40 years. In this event, fellow slum dweller leaders, notable academics, and development professionals will honour Jockin's life and work. We will explore its growing relevance and urge those present to take this work for inclusive, resilient cities to new heights. Speakers include David Satterthwaite, Arif Hasan, and a video message from Arjun Appadurai.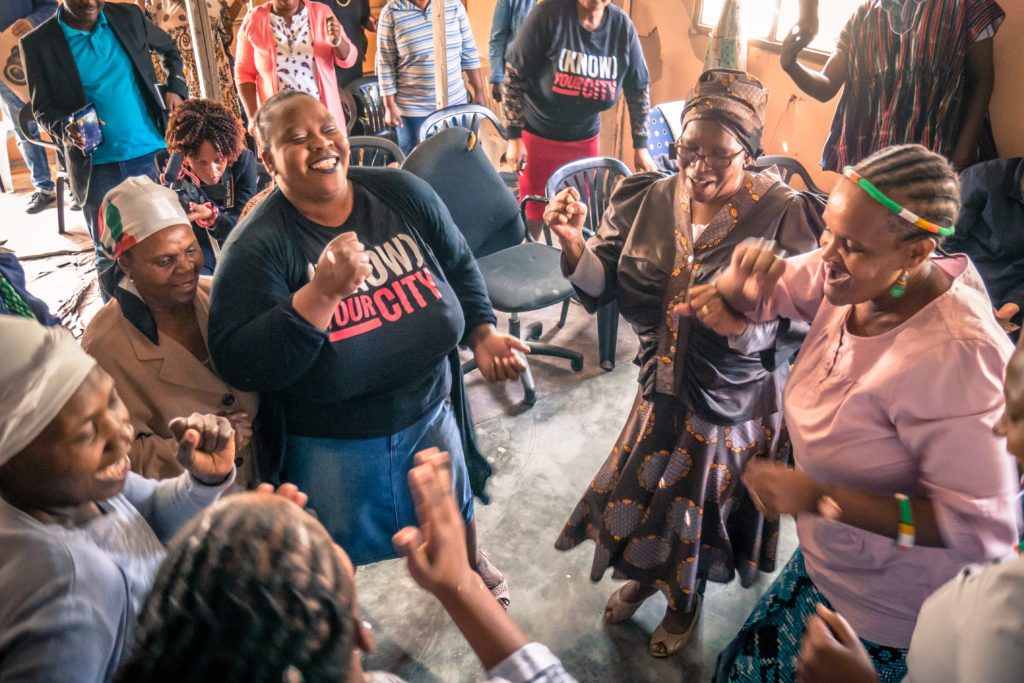 SDI Charity Dinner
7 October, 19:00 – 22:00
Join SDI as guests of Duurzaamheid.nl for a night of learning, entertainment and an auction while enjoying a meal prepared by acclaimed chef Rudolf Brand. This event offers an opportunity to engage with those confronted with the effects of climate change, poverty and exclusion on a daily basis, and who are finding innovative solutions to these problems on a daily basis, too.
Sustainable Finance for the Urban Poor
8 October, 14:00 – 17:00
This meeting brings together slum dweller leaders and impact investing specialists in order to explore the potential for innovative finance solutions and impact investing to create social and economic change in urban poor communities around the world. The session is organized in collaboration with ABN AMRO and will be facilitated by Remko Berkhout.
Shaping Resilient Solutions
9 October, 09:00 – 14:00 
This joint event by SDI, Cordaid and Arcadis, will explore urban resilience and inclusivity challenges and actions, illustrated with updates from key international climate and resilience platforms as well as local level challenges and initiatives, such as the role of urban development professionals (private and public), organized urban poor communities, and NGOs.
Make Media, Make Change
9 October, 20:00 – 22:00
Join SDI for the screening of two poignant films: 'The Rebel Optimist' and 'Undevelopment', showcasing the work of community leaders, slum dwellers, and media makers who change the world. The film screening will start with an introduction by Arif Hasan, activist, urban planner, writer, and co-founder of the Orangi Pilot Project, and will be followed by a Q&A with youth from Know Your City TV, an international collective of youth living in slums, learning by doing, and making media for social impact.
---
Every street matters
Leave no one behind. That is the core of the UN Sustainable Development Goals: a clean, safe and just world for everyone. The same idea is central to SDI. SDI has been working on slum and urban development throughout the world since the '90s. Every street matters and everyone is part of the solution: that is the key to success.
Every day thousands of SDI members map the streets of their slums, going from door to door to collect information about the residents. This information gives them power to negotiate with local authorities to gain access to basic services and land rights and to prevent and develop alternatives to evictions.
SDI offers the solution to achieve the SDGs
Over the past 25 years, SDI has gained in-depth knowledge about the dynamics of urban development. The slum dwellers have become experts in solving land and tenure challenges and finding inclusive solutions when formal interests overlap with the needs and rights of informal communities.
This local knowledge and experience is invaluable if we want to achieve the Sustainable Development Goals. During The Amsterdam Sessions we explore new models of inclusive urban development and ways we can form resilient local communities.
Thank you to our partners in making this week possible: Duurzaamheid.nl, CIRCL, ABN Amro, Cordaid, Pakhuis de Zwijger, and Arcadis.
To register for events, please visit www.sdinederland.nl/amsterdamsessions today!