Accessible and inclusive cities demand systems and policies that provide the poor with equal access to the social, economic, and service benefits of the formal city. Relocation to the periphery (or even worse eviction) severs social bonds, increases urban sprawl, and aggravates spatial inequalities. In situ upgrading of informal settlements presents an opportunity to build denser, more climate friendly and equitable cities. Citywide data collection processes through profiles and enumerations form the baseline to plan for in situ upgrading. 
SDI therefore understands in situ upgrading as a key part of integrating the excluded and informal poor populations into the city as a whole, providing meaningful access to the social and economic benefits of living in a city. An array of interventions have been developed by SDI's affiliates to prepare communities for in situ upgrading projects and subsequently implement infrastructure and housing upgrades.
In Harare, Zimbabwe the Zimbabwean Homeless People's Federation (ZHPF) and their support NGO, Dialogue on Shelter, have supported the incremental upgrading of Dzivarasekwa (DZ) extension in partnership with the City of Harare. To date almost 500 families have built incremental housing and accessed water and sanitation services. Surrounding informal communities have become interested in taking up these upgrading interventions and the Zimbabwean Alliance has plans to significantly scale up sanitation provision in DZ extension. Other city governments and communities (e.g. in Chinhoyi, Bulawayo, Kariba, and Kadoma) have been exposed to the projects and steps are being taken to replicate upgrading interventions. The partnership and pilots in Harare have influenced government (locally and nationally) to accept dry sanitation options (ecosan) and adopt incremental upgrading practices in the new National Housing Policy.
In Kampala the Ugandan Alliance has focused on pilot sanitation and market upgrading projects. In terms of sanitation the Federation has piloted a number of different toilet prototypes in Kinawataka, Kisenyi, and Kalimali and other municipalities outside of Kampala. The pilot projects have enabled the Federation to: a) engage local government substantively on the issue of sanitation discussing policy, regulations, and management strategies; b) change perceptions on what "public toilets" are from dirty, smelly, single-purpose units to units than can serve multiple functions – such as community halls, income generating spaces etc. and c) test different technologies – from solar lighting, to rainwater harvesting, to low-cost building materials in an effort to find the most efficient combinations for sanitation facilities. The Federation is now seen as a critical actor in the sanitation sector and has increased its networking with other actors in the field for enhanced learning. As a result of these pilots, the Federation was able to leverage significant resources from Comic Relief to continue its sanitation work over the next five years.
The vast majority of Kampala's slum dwellers work in the informal sector – many in the city's informal markets. As the city plans to upgrade these markets from cramped, muddy, and poorly ventilated and serviced to something more formal (and taxable) there is a danger the existing vendors will be pushed out due to affordability concerns.
The Federation is working on a pilot market upgrade in Kinawataka, Nakawa which will combine low-cost stalls and more formal "lock ups" to cater to the different needs of city dwellers. Many market upgrading projects in the city have been stalled for years due to the wrangles of market vendors, local politicians, and landlords. The Federation is working with the Kampala Capital City Authority and the Ministry of Lands, Housing, and Urban Development to try to demonstrate an alternative community-driven approach that may minimize these roadblocks to successful market upgrading.
In Cape Town, the South African Alliance has piloted three in situ upgrading projects. Over the last year Mshini Wam has been re-blocked, opening up space for safer and more dignified communities, as well as for infrastructure. Through the growing partnership with the City of Cape Town, water and sewerage pipes have been installed for the 250 households (497 people) in the settlement. Road surfacing is under discussion and during the next financial year electrification is planned. Nokwezi Klaas, a community leader from Mshini Wam, describes how re-blocking has changed the settlement: "Prior to re-blocking, the settlement was very dense. There were no passageways and when there were fires it was virtually impossible to get into the settlement. All the toilets were on the outskirts and there were only three water taps for over 200 households in the settlement."
In Kukutown, a far smaller settlement, re-blocking has taken place and one-on-one services (water, sanitation, and electricity) have been installed. In Flamingo Crescent the re-blocking process is currently underway. In Stellenbosch a community managed WASH facility has been constructed in the Langrug informal settlement. Mshini Wam, Kukutown, and Flamingo Crescent have been used to show the possibilities for in situ upgrading in Cape Town and to catalyse other interventions at a city scale.
Their impact has been significant with the City of Cape Town drafting a re-blocking policy which could potentially be rolled out to other settlements across the city and aligned with municipal development plans, frameworks, and budget lines. During this period several consultation meetings have been held with the City to expedite and refine this process, addressing challenges and delays that have emerged.
In situ upgrading projects based on solid community data present a viable alternative to relocation and eviction. The variety of pilots and interventions trialed throughout the network highlight alternative visions for the city that include the poor, rather then relegate them to the periphery. The methods deployed represent a "tool-kit" which is contingent on local contexts especially the nature of relationships with local governments. What will become increasingly vital in the next year is how SDI federations are now in a position to scale up informal settlement upgrading interventions that form part of a coherent, affordable, and scalable citywide plan.
Check out SDI's 2013 – 2014 Annual Report for more on in situ upgrading.
By Noah Schermbrucker, SDI Secretariat
Many development narratives provide theoretical analysis and debate based on community orientated social movements. While such analysis is interesting as an academic and theoretical exercise it often overlooks the practicalities of day-to-day processes and the resultant infrastructure developments in favour of a more abstracted reading.
How exactly do communities manage infrastructure projects? How do they secure land and finance, procure affordable building materials, organize construction, secure assistance from the state, plan for long-term sustainability and negotiate the daily challenges of project management. Make no mistake; communities are more than capable of building their own infrastructure, especially if this process is "nested" within a mobilized and organised social movement.
Over the coming weeks I will provide examples of SDI federation members describing the trials and achievements of managing their own infrastructure projects. These snippets are intended to provide insight into the practicalities of the process illustrating examples and experiences that resonate across the SDI network. We begin with the case of Kambi-Moto in Kenya, described by federation member Joseph Muturi.
I will just share some experiences from Kenya. We have several projects but the biggest project which we have is Kambi-Moto (Camp of Fire) community of about 270 families. After many years of negotiating we got a piece of a land from the city council and an MoU showing that the land is a special planning area. They gave us free land and we came up with unique designs and they have not been done anywhere in Kenya before. We got some money from our savings and from some donors (UPFI). We do not get any money from the government. We do not enjoy the kind of support from the government you get in Uganda – so we have to negotiate everything ourselves. Our NGO subsidized and gave us the technical people – then everyone had to dream and draw the kind of house they wanted (women, men, children). The architects and professionals take these drawings and take into account affordability, if possible…
We came up with the design – ground +1. We go up to save space and we share walls. As a federation our responsibility was to figure out how we are going to manage the site. We have a community Procurement Manual – how do we go about the business of procuring materials so what we did was to look at what we need for the next few weeks. They sit down and work it out – we send community people and we get quotations from different suppliers of materials, then we sit down and look at who is offering the best deal and will deliver on time. The procurement team and the construction team ensure the quality of the materials (quantity and standards). Sometimes people were bringing their friends and delivering less material…. We try to make things transparent and easy to manage.
For us we do not withdraw all the money. The executive draws money and gives it to the construction team and they pass this on to the procurement team. We need to sit down with the professionals who tell us for the next few weeks what we need and what we have to do. They can guide us and give us good advice.
The project management committee is at the regional level [in Uganda] – in Kenya it is at the local level. It comprises the beneficiaries of the houses – the only external people are the engineers, architects and other external people. They sit down and discuss things and the way forward every few weeks – the project team is at the site and its people who are locally available. The other advantage of having a local team on site is that we do not have outsiders to blame for our mess – we only have each other to blame. The construction team does weekly revue meetings – how far has the project progressed and how long it will take. The construction teams have a list of all the beneficiaries – they have to work themselves or pay someone to work for them. This process is taking a long time so now we are getting some subsidy contractors from within the community.
The more you expand and grow the more the challenges will grow-we will learn as we go along. This is just a basic framework of how we procure. Executive-finances, Construction-building and the Procurement team that is completely separate and buys the materials. We have community procurement manual – basic steps to go through and how we should go through the business of procuring.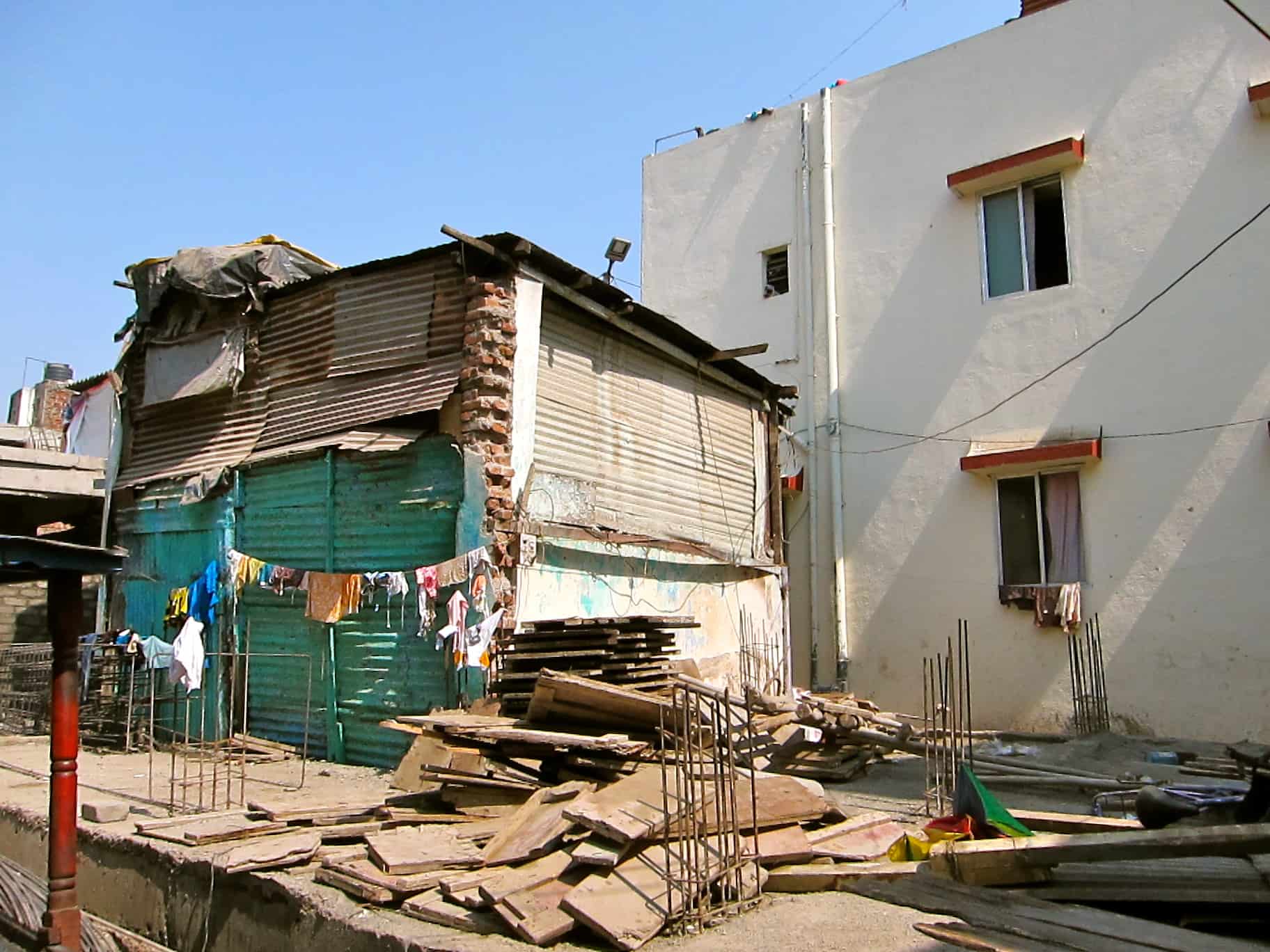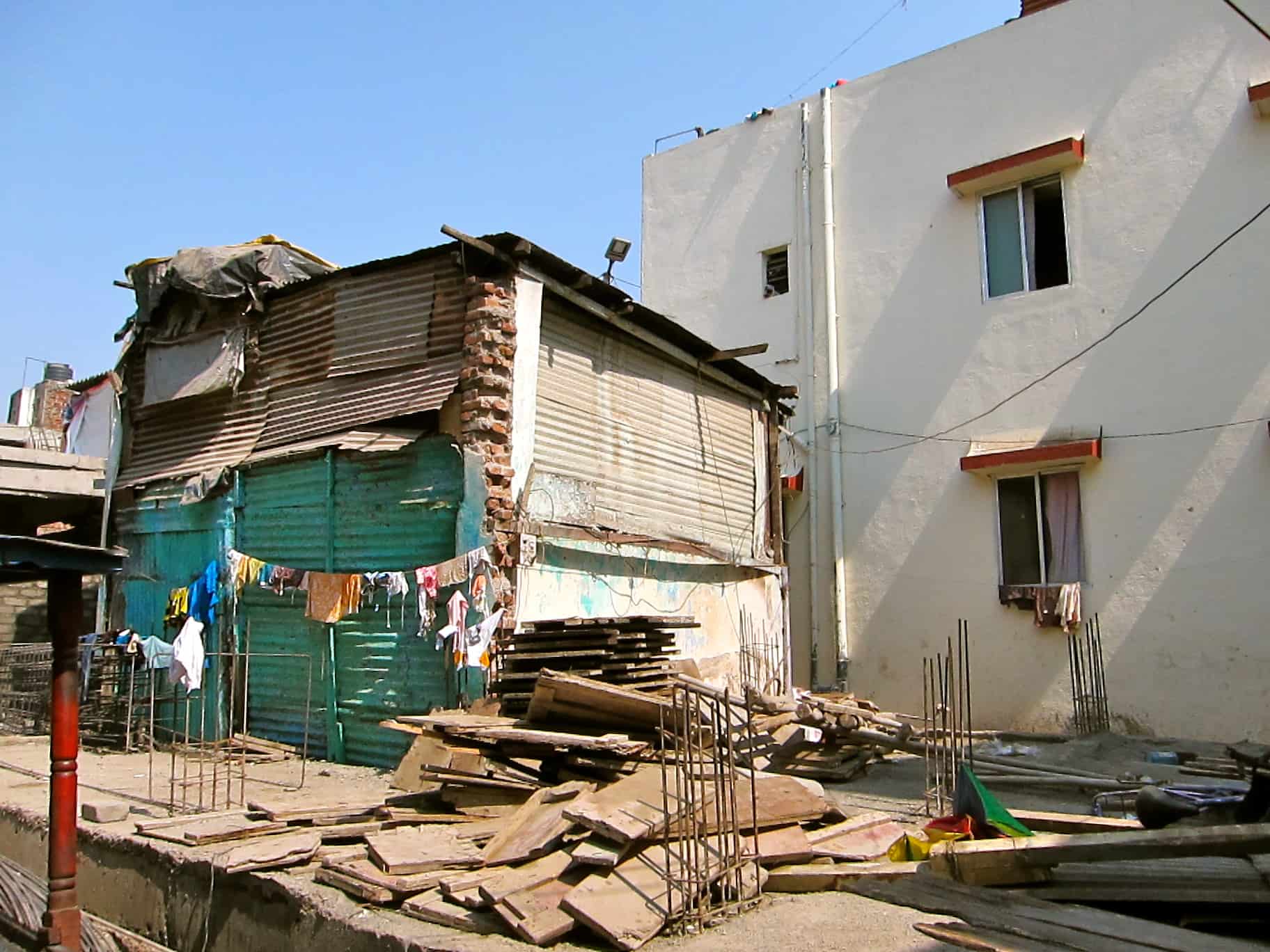 By: Ariana K MacPherson, SDI Secretariat
We left the city in an early morning haze of pollution and sunrise, making our way through flat green valleys and into Western Ghat mountains. We are on our way to the smaller city of Pune about three hours north of Mumbai. With a population of roughly 3 million, Pune is the second biggest city in Maharashtra state after Mumbai (population ±16 million).
Mahila Milan (MM) has had a presence in Pune for years. Savita Sonawane, one of the longest-standing members of MM in Pune, first met the women from Mumbai when she was only 22 years old. That was nearly twenty years ago. Today we meet Savita in MM's Pune office, located above a community toilet project constructed and managed by MM. She is sitting alongside her daughter and her two baby grandchildren. Savita has made lifelong friendships with the other women of Mahila Milan, and with Celine d'Cruz, a colleague of mine at SDI who has spent thirty years working with the women of Mahila Milan in Mumbai and Pune. Celine and Savita sit cross-legged beside each other, laughing as Savita's granddaughter, little Arya, writes out the alphabet and pours us imaginary tea. These connections, these friendships, make up the foundation for Mahila Milan's strength, their ability to persevere, their determination and courage.
Alongside a group of local leaders, Savita manages projects ranging from housing construction, slum upgrading, and government sponsored resettlements. Starting with management of daily savings, the MM women learned the necessary skills for management and coordination of human as well as financial resources.
The first project we visit is at Yerwada, a settlement near Pune city centre where Mahila Milan has facilitated a very impressive slum upgrading project. Old tin shacks have been torn down and replaced with one, two and three story single and multiple family homes in the style of townhouses and small apartment blocks. The most fascinating thing about this project is the use of space. Most of the homes' footprints are no bigger than 250 square feet, but adding the second floor nearly doubles this space, giving the family a significant increase in their amount of living space and allowing for space for extended family to live comfortably together. One woman's home is a narrow triangle of only 170 square feet. The second story nearly doubles this, and MM has ensured that she she has permission to build a third story once she can afford it.
In addition to reconstructing the homes, MM worked hard to to realign the structures in order to widen pathways and make space for municipal water, sewerage and electricity connections. The pathways, widened from crevices to lovely pathways, are lit by street lamps. Each home has been designed in partnership with the family, so no two are alike, and construction overseen by the women of MM. They are painted bright colors, and front doors hung with bright flowers. It is clear that this is a community. Not a slum. Not an informal settlement. It is a neighborhood, with families living and working, improving their homes and kids walking home from school.
Next we travel a bit further out of Pune to a settlement called Shanti Nagar, where the second phase of slum upgrading is taking place. Being further from the city, this settlement is far less dense than Yerwada, making roads and pathways wider and the footprints of houses larger. They have recently started demolition of homes here, so much of the settlement is still under construction. Of course, convincing people to demolish their homes and live in rental housing for six months can be a challenging task, and MM must take each family's situation into consideration. Some people are not ready to make this kind of commitment. Children are in the midst of exams, or they do not have the money to pay rent while their house is reconstructed. These are things that would hardly be taken into consideration if the government, or even an external NGO, was heading up the process. But with MM working on the ground within their own communities, there is sensitivity to these realities.
On our way out of Pune we visit a resettlement project that is still under construction. The government has requested that MM assist in relocating just over 1,000 families to these new buildings to make way for various public works projects. Mahila Milan has agreed, but it is going to be a challenging task. They have not been involved in the design phase of this development, and the blocks of flats are looming structures, towering high into the sky and far from the city centre. Perhaps the one saving grace are the middle-class developments sprouting up on either side. Jobs as domestic workers and drivers for these middle-income families might serve as incentive for families to relocate here, as they will be next door to (some) economic activity. But still, for many this will be a hard move. The buildings lack character. The footprints are small, there is little cross-ventilation, and the location is not great. But Savita says they will come. They have to. And once here they will form housing societies, start daily savings, become an organized community with a voice, and they will be heard.