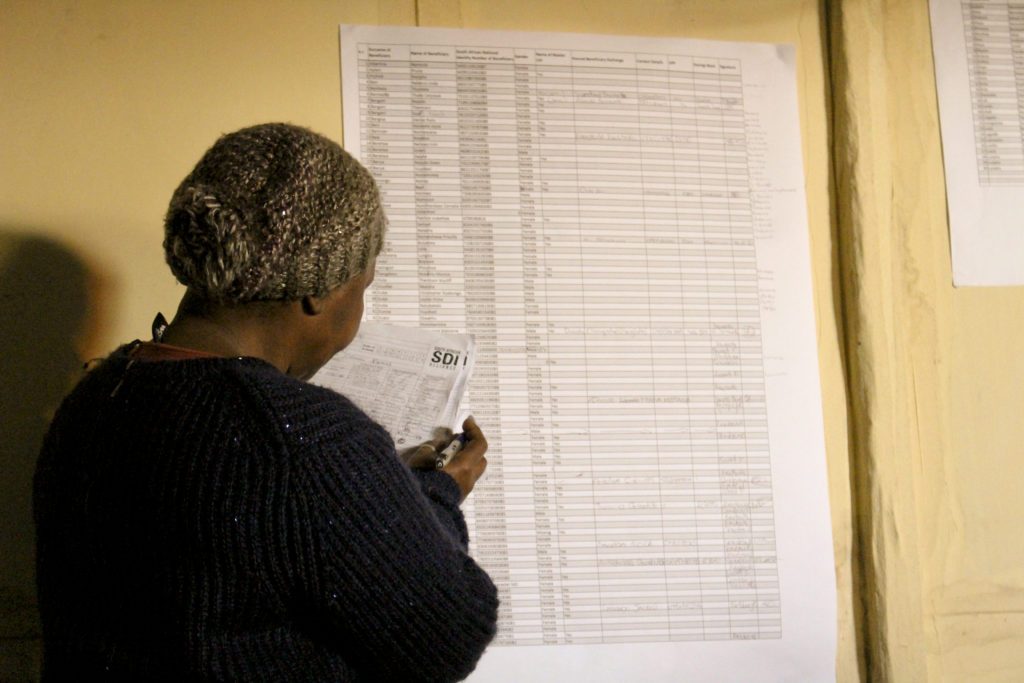 A piece written by Camila Yanzaguano, Erica Levenson, Manuela Chedjou, with photography by Ana Holschuch. 
Every year SDI hosts students from The New School, as part of their International Field Program. During the internship the students, alongside the SA SDI Alliance and Know Your City youth from the Western Cape, documented the data collection process and community organising of the Vusi Ntsuntsha project. 
Bridging the gap in data surrounding informal settlements is one of the main priorities of SDI. As the profiling process has developed SDI has relied more and more on the community participation of residents of informal settlements. The lack of data on informal settlements is a major issue, and speaks to a larger oversight of informal settlement residents. For this reason, community participation in the data collection process is crucial. Through SDI's 'Know Your City' Campaign (KYC), this profiling and enumeration work is active across 32 different countries, in Asia, Africa, and Latin America, serving as an engine for active community participation. The initiative's main goal is to produce valuable data on informal settlements so that the data can be used to determine what and where service improvements are needed.
Settlement profiling and enumeration is a process driven by the community for the community. The process helps to organize communities and define the most pressing problems in their settlement, as well as provide a space for communities to discuss priorities while encouraging cross-learning. Through social interaction, residents of informal settlements learn from each other and give helpful suggestions regarding the implementation of development projects.
Informal settlements are typically built by the residents themselves, and the conditions of the construction are not always under local or national codes and regulations. In South Africa in particular, there has been a steady increase in the number and population of informal settlements in the last two decades. The lack of information and data on these settlements has made authorities' attempts at improvements extremely prolonged. Thus, the KYC initiative aims to expedite slum upgrading projects by compiling crucial data, all the while engaging communities in the process.
photograph taken by Ana Holschuch at Vusi Ntsuntsha meeting.
Enumeration, settlement profiling, and mapping are some of the processes that KYC is involved with and led by slum dwellers. Gathered data has facilitated sanitation improvements as well as the construction of transportation infrastructure, such as the paving of roads within several informal settlements across the SDI affiliated countries. As a result, residents of informal settlements have received improvements in roads, potable water, and sanitation- improvements that they have needed for some time. In some cases, communities have been able to get access to health services, construction of community centers, and schools.  
Enumeration is a community-driven process that has been used by the SA SDI Alliance for years. Enumeration is essential to profiling residents of townships: how many residents per household, what resources they have and do not have, and so on. The data gained by enumeration is then presented to governments and used in requests for resource provisions. In other words, by having an exact number of people residing in each area, it becomes simpler and quicker for the government to budget, plan, and implement upgrading projects at the sites. 
The South African (SA) SDI Alliance has been working in informal settlements for years and has come together with communities to develop the Vusi Ntsuntsha project through community participation. The Vusi Ntsuntsha project was stalled for twenty years, but with leadership commitment and contributions from members of the Vusi Ntsuntsha community, the project was recently re-established. The ultimate goal of the project is to build affordable, proper housing for community members using subsidies from the South African government. With the help of community leaders and the Alliance, the Vusi Ntsuntsha project is making impressive progress. 
photograph taken by Ana Holschuch around profiling and enumeration of the Vusi Ntsuntsha project.
Community members have to be 'visible' to the government in order for any project to be planned. Profiling and enumeration create an undeniable visibility of residents and their needs. Through enumeration many important questions are answered: how long respective people have lived in their respective settlements and how they make a living. The data collected is ultimately used to ensure that all residents' needs are accounted for in planning and service delivery. The data collection work of communities has gained organizations such as SDI and the SA SDI Alliance worldwide recognition. By collecting necessary information, the Western Cape Provincial Government was able to screen all Vusi Ntsuntsha beneficiaries and to provide a response about members who qualify for grants, and set new options for those households who do not qualify. Today, at least half of the 800 beneficiaries have been enumerated and verified, becoming formal members of the Vusi Ntsuntsha project. 
Vusi Ntsuntsha's process of profiling and enumeration has been crucial to the projects movement and success. Community members not only created valuable data but also gained knowledge during the process. Today, new projects, such as Mossel Bay, are starting with the support of the SA SDI Alliance. Vusi Ntsuntsha leaders and members are exchanging their knowledge on enumeration with Mossel Bay members. Community participation emerges as a key way to give power to the people within informal settlements. Communities are becoming more visible,  capitalizing on their rights as citizens.