[video width="640" height="352" mp4="https://sdinetorg-1c78b.kxcdn.com/wp-content/uploads/2020/06/WhatsApp-Video-2020-06-02-at-4.04.05-PM.mp4"][/video]

Nearly three months since the first case of Covid-19 was reported in Sierra Leone, the Federation of the Urban and Rural Poor (FEDURP) and their support NGO the Centre for Dialogue on Human Settlements and Poverty Alleviation (CODOHSAPA) reflect on actions taken to date and the challenges that still lie ahead in taking action against this pandemic.

Background

This report provides narrative on how FEDURP has been involved in the fight against COVID-19 in their localities within Freetown Municipality, which is the epicentre of the pandemic. Their involvement has been driven by the institutional response strategy developed in collaboration with Freetown City Council (FCC). This strategy was generated using feedback and experiences of FEDURP and community volunteers actively involved in various activities to help prevent and mitigate the spread of the virus in their respective localities.

Planning

In early April 2020, FEDURP and CODOHSAPA consulted and put together a COVID-19 response plan as the pandemic was close to getting its way into Sierra Leone from the two neighboring countries of Liberia and Guinea. This plan constituted the following thematic pillars:
Leverage existing partnerships with local authorities, such as Freetown City Council, to establish clear roles and responsibilities and clear lines of communication between government and communities;
Adapt and deliver initiatives formulated within the national policy framework;
Monitoring of community dynamics, including livelihood activities and movement of people in and out of their settlements; and,
Enhancing contact tracing of suspected or positive cases within their communities.
To ensure that our strategy was better informed and relevant, it also capitalised on FCC's COVID-19 response framework with three strategic pillars, namely;
Behavior change messaging,
Behavior change support, and,
Isolation and containment support.
These two foregoing strategic pillars incidentally aligned with the strategic objectives of the SDI network with respect to Covid-19, namely;
To provide community owned and validated settlement profile and mapping data to inform co-developed preparedness and response plans including logistics;
Settlement level enablement of co-owned humanitarian assistance responses by means of leveraging existing social and political capital as a way to build two-way trust between providers and affected populations; and,
To engage in monitoring and advocacy activities at settlement and city level in order to minimize threats of evictions and counterproductive closures of essential informal services during periods of lockdown or protracted national emergency.
Hence, the actions of FEDURP included; i) mobilization of community volunteers to focus on case and incident reporting; ii) development of sensitization messaging materials such as posters, handbills, and videos; iii) engagement in community sensitisation through direct community outreach and using various social media platforms to share videos and radio discussion; iv) provision of veronica buckets (for hand washing) and face masks; v) work with settlement-based local chiefs to enforce government regulations and practices; and, vi) engagement with state and local authorities to enhance government response to needs of informal settlements.
Prevention Response
Development of behaviour change messaging and information, education and communication (IEC) materials:
FEDURP and CODOHSAPA consulted various messaging materials developed by the Ministry of Health and Sanitation (MoHS). The contents of these materials were customised to reflect the realities of slums and informal settlements. The messaging materials developed included visuals (posters and handbills) and audio-visuals (videos). This was done in collaboration with FCC and community health workers working in community health centres located in the informal settlements.  The videos were done by the KYC TV team. One of the videos was done with the mayor in one of the slums (Susan's Bay) emphasing the importance of handwashing and social distancing.
Provision of handwashing facilities:
Five communities were supported with veronica buckets and soap which were located at strategic locations within communities. These provided facilities for handwashing, which helps to stimulate and enhance behaviour change in communities. Given that hand washing is the most basic practice to mitigate the spread of COVID-19, the provision of these items has increased people's awareness about handwashing practices as an important element to preventing the spread of the virus. These stations are monitored by young community volunteers to enforce the practice for passers-by and to replenish the water and soap.
Production and provision of face masks:
1,250 face masks were produced by tailors who are members of FEDURP. 250 were directly distributed to community volunteers and 1,000 contributed to the 60,000 mask target set by the FCC to support vulnerable population in slum and informal settlements. 
Community sensitization and propagation of messaging:
Community volunteers drawn from the community-based disaster management committees (CDMCs) and FEDURP key participants engaged in community outreach activities, organising community and one-on-one sensitisation drives and distributing the posters and handbills containing customised messages that respond to the realities of slums and informal settlements.
Mitigation Response
Working with FCC to reach out vulnerable population with food items during lockdown:
The federation worked with FCC to support a community kitchen targeting three extremely vulnerable communities namely, Cockle Bay (in the west end of Freetown), CKG (central), and Old Wharf (east end) targeting people with disabilities, the elderly, orphans, pregnant girls and female headed households with multiple dependents. This is to mitigate hunger for these categories of people who are limited to sourcing livelihood opportunities. Without such support, they are exposed to reinforced marginalisation and increase their exposure to contracting the virus and/or decreasing the chances of survival if they get exposed to the virus.
Engagement with authorities to enhance support to informal settlements:
The situation of slums and informal settlements remains largely ignored by state institutions in responding to COVID-19. FEDURP volunteers have been engaging particularly with the Disaster Management Department of the Office of National Security (ONS) in which they responded by providing materials to these localities. Nevertheless, FCC has been quite responsive to the needs of slums and informal settlements. With focus on COVID-19, the engagement has also brought into view environmental disasters as the rains that are about to start, which often leads to massive seasonal and tidal flooding, rock or mud falls, landslides and more. There are speculations that if preparedness actions are not taken now before the rains set in it may beset the preventive measures and escalate the spread of the virus. Hence, the federation is pushing for environmental disaster preparedness. Another issue of concern is the militaristic approach to effecting quarantine actions in slums and informal settlements compared to formal or built up neighbourhoods. This has resulted in resistance and mistrust between communities and law enforcement. FEDURP therefore found it critical to encourage the relevant authorities to adopt more humane and civil methods.
 Development of case monitoring app (Freetown Informal Settlement Covid-19 Data – Fiscovidata)
This app has been initiated to ensure that incidents and issues emerging in slums and informal settlements are captured and reported so that their situation are not sidelined and to serve as the basis to inform key stakeholders about the realities of these localities. This was done in consultation with FCC capturing the perspectives of all parties. It also provides opportunities for the participants to improve data collection skills and sensitivity to the needs and realities of their settlements. (See the link: https://datastudio.google.com/reporting/e5255d5d-6553-49fa-b286-e46c49d296a4)
Case and incident reporting:
This initiative constituted 126 data collectors spread across the 68 slums and informal settlements in which 48 are attached to the FCC ward-level community engagement structure using the aforementioned app, Fiscovidata, to collect and report cases and other incidents. Two levels of data analysis are done, i) community level data analysis that reflects the 68 settlements; and, ii) ward level in which incidents from these communities and other neighbourhoods within a ward are compiled to reflect the ward for sole purpose of FCC. Collecting and reporting on the cases and related incidents is important to mitigate the effects of COVID-19, as it helps to inform stakeholders of necessary actions that may address the needs of slum dwellers and informal settlers.
Networking with State and Non-State Agencies
The fight against COVID-19 requires collaborative actions to build synergies and maximize the use of limited resources in the face of this global pandemic. The Ministry of Health and Sanitation (MoHS) has been responsible for designing appropriate IEC materials as well coordinating the provision of health services nationwide, including COVID-related mitigation and curatives. As such, messages we customized were derived from the approved MoHS resource base. At the same time, development and enforcement of protocols, procedures, and practices are undertaken by the Emergency Operational Centre (EOC). This has remained quite centralized, even though attempts are being made to decentralize its operations, making it difficult for CSOs to efficiently interact with the centre.
Collaboration with FCC has continued in order to maximize the provision of services and support. FEDURP/CODOHSAPA undertakes community mobilization and organisation as well as providing necessary data to inform FCC's actions and service provision. This synergy tends to reinforce the recognition of slum and informal settlements as part of the municipal constituents, which by all indication precludes any foreseeable forced eviction in the course of the current situation.
FEDURP's engagement with ONS saw additional provision of hand washing facilities in a few settlements and involved discussions on how both partners can begin to work on the actions to mitigate environmental disaster as rainy season is just setting in now.
A consortium including CRS, FCC, FEDURP/CODOHSAPA, CARITAS Freetown and Sierra Leone Red Cross has been constituted to seek funding from EU. By all indications, there is the possibility to win this grant which will target the slum dwellers and informal settlers, and special trade and socio-economic groups such as Traders and Market Women Council, Bike Riders Association, Tricycle (Kekeh) Drivers Union and Motor Drivers Union.
We are also working with ARISE partners to finalise and roll out the concept on our collaboration on the fight against COVID-19. This will focus on the following objectives:
Improved community capacity to respond and mitigate the spread and contagion of COVID-19 in slums and informal settlements in Freetown;
Enhance government's COVID-19 response and mitigation priorities to reflect the needs of slums and informal settlements; and,
Improve structures and practices for the collection and documentation of experiences and learning of COVID-19 response and mitigation interventions in slums and informal settlements
Challenges 
Some of the challenges we have faced include the following:
The centralized approach poses the challenge of efficiently engaging with Emergency Operational Centre (EOC);
There are huge needs, particularly in slums and informal settlements, but limited funding to respond adequately;
Mixed messages has resulted in the emergence of myths and misconceptions in communities and the society generally about the Covid-19 virus;
Periodic full and partial lockdowns seriously affect the livelihoods of slum dwellers and urban poor communities, as most are daily wage earners living on a hand-to-mouth basis. This is reinforced by the increase in the cost of food stuff caused by the ban on inter-district vehicular movement, which in turn affects movement of local food stuff from the rural areas where local food stuff are grown and at same time affect the marketing stock of the market women sellers.
Lessons Learned
Some of the lessons learned include:
Our experiences from the Ebola outbreak was a capital for the government and local actors to draw from to design and plan for the fight against COVID-19.
Ebola attracted a lot of funding from international partners, but the emergency of COVID-19 as a global pandemic attracted less support globally, which is an indication that nations across the globe were busy fighting their own scourge.
The need for community participation has become even more important, as restriction on movement and enforcement of social distancing precludes others from directly supporting local actions.
COVID-19 has stimulated ingenuity and creativity, such as the local fabrication of hand washing stations and face mask.
COVID-19 has registered the urgent need for our government to invest in our health and other essential infrastructures as the ban on international flights has limited all of us (rich and poor, governors and the governed) to use our local health facilities as they have no second option of traveling abroad.
Next Steps 
As the Sierra Leone SDI Alliance, we have identified the following as critical next steps:
Focus sensitisation on myths and misconceptions.
Data collection and incident reporting continues.
Continue engagement with partners to seek other funding opportunities.
FEDURP and volunteers to strengthen community monitoring efforts in collaboration with respective resident local chiefs.
Continue engagement with state and non-state actors to strengthen synergies and enhance support to slums and informal settlements
**Cross posted from ARISE Consortium blog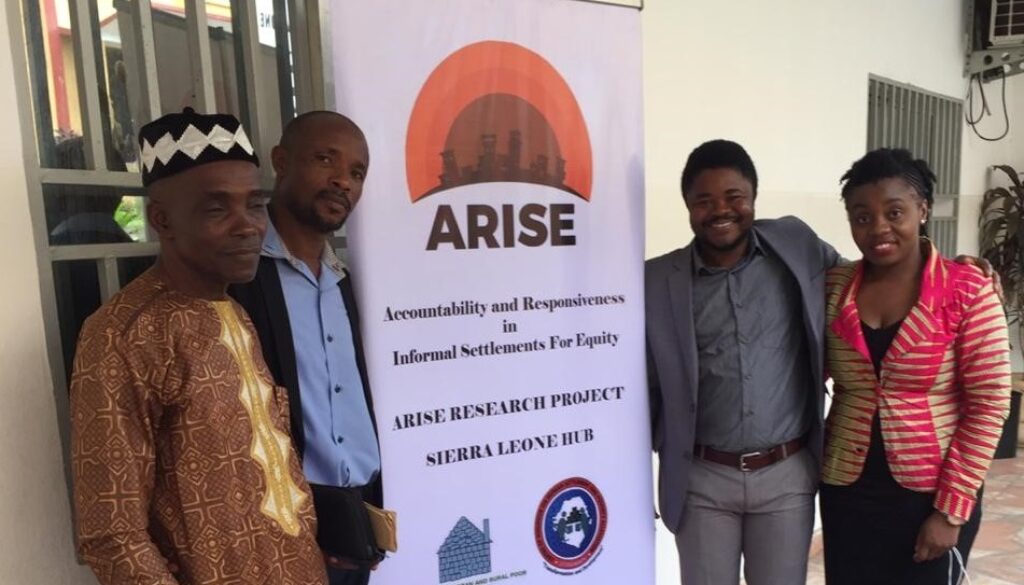 By Samuel Saidu and Abu Conteh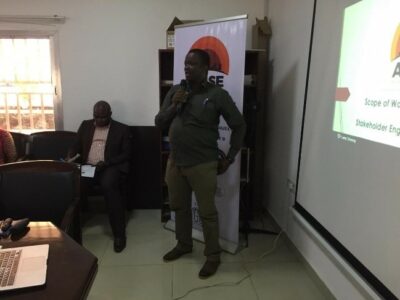 "Don't remove them from the slum, remove the slum-ness from them…Informal settlement residents are used to their communities, which they relate with socially, culturally, economically, so it makes much sense to improve conditions around them rather than removing them."
These were the words of Dr Brima Gogra of the School of Environmental Sciences, Njala University, at our launch earlier this month. He argued that it made more sense for government to provide communities with a safe environment that met their needs rather than evicting or relocating residents.
The stakeholders at the launch were broad-based, including health workers, chiefs, youth groups, women's leaders and representatives from various government departments, including the Ministries of Health and Planning.
At the launch of the project, various speakers, including informal residents, community elders and advocates of settlement upgrading spoke about the need for government to integrate informal settlement upgrading needs into planning by providing water, health services and adequate drainage, and give up plans of relocating them.
We heard from Sister Elizabeth Musa of the Ministry of Health and Sanitation that better research was key to the development of the informal settlements, ''Sierra Leone lacks informed data to make real time decision on the people living in an informal settlement, and today it has resulted into seasonal movement in and out of their dwelling houses and communities. It is scary to hear that a third of the people living in the cities live in slums."
The chief from one of the informal coastal settlements (Pa. Alimamy S. Kargbo of Cockle Bay) in Freetown, passionately expressed how their community has been repeatedly neglected by political leaders in planning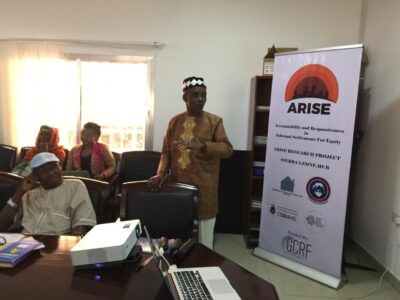 and service delivery, yet they often revert to them when they need political votes:
"We are all Sierra Leoneans but we in informal settlements are loved by season; we are the Cotton Tree, so we remain strong…Our settlements are regarded as illegal, but they don't refer to us as illegal when they need political votes. We need development, we need change in our community.''
A community representative from Dwarzark and a member of FEDURP, Margeret Bayoh, expressed similar frustration about the disdainful way informal residents often are treated by people in authority: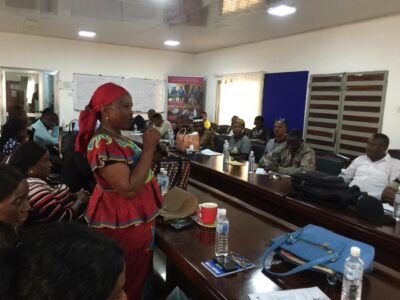 "You say we live in illegal settlements, but our taxes and services are never illegal; we cook, clean, baby sit and drive for the so-called 'people living in formal settlements'."
ARISE is working in three communities on accountability, governance, health and well being, there was a lot of support from all stakeholders to change the narrative around communities in informal settlements. Communities are already well organized, particularly in areas where the presence of central government is limited. They have established networks with government and institutions that can help them effect change, as expressed in some of their popular slogans:
"We reason together, involve together, identify together and evaluate together"
"Information is power"
''We are busy for something"
There is a lot of tension in communities now with fear that slum dwellers may be relocated from their current settlements. In Sierra Leone, the risk of living in an informal settlement is increasing year by year since 2013, with intermittent flooding events, disease outbreaks, and one of the worst mudslides. Urbanization and poverty have made thousands of people leave their homes in the provinces in search of livelihoods in the cities, many of whom live in informal settlements due to lack of adequate housing. Yet, relocation of people living in informal settlements has proven controversial, primarily because of limited access to livelihood options and social services in relocated settlements. A case in point was the relocation of thousands of flood victims in 2015 to a settlement about 20 miles outside Freetown. Many of those who were moved returned to Freetown due to remoteness of the location and difficulty earning a living.
It is important to reflect on a few issues as ARISE becomes a reality in Sierra Leone. How do we hope to address the contrasting views of communities and policy stakeholders in addressing intractable health problems of vulnerable people? How do we get ARISE prepared to meet the urban development challenges and the aspirations of informal settlement dwellers? It is yet to be seen how our contributions will contribute to solving problems that seem so insurmountable.
By Mara Forbes, SDI Secretariat
Thousands of people living in informal settlements lack security of tenure placing them at high risk for forced evictions. In the past few months many SDI affiliates in West Africa have faced evictions – Badia East settlement in Lagos, Nigeria, Adjei Kojo settlement in TEMA municipality in Accra, Ghana, and Kroo Bay in Freetown, Sierra Leone. Most of the SDI affiliates in the West African region began in response to the need to organize communities to stave off eviction threats. In 2003, the SDI methodologies for fighting eviction through community-based data collection were introduced to community members in Old Fadama, the largest slum in Accra. The community was able to organize itself and conduct an enumeration that indicated that over 79,000 people lived in the slum, a number that had been grossly underestimated by government. The federation used enumeration findings to negotiate with government to find alternatives to eviction. The Federation has gained recognition and legitimacy as an organized network of poor communities that work with local government towards pro-poor development strategies. The response in Old Fadama can not only help other settlements in Accra and the rest of Ghana but can also serve as a learning experience to other newer affiliates in the region.
From the 10-14 of February this year, SDI delegates from West Africa – Ghana, Sierra Leone, Liberia, Togo, Nigeria, and Burkina Faso met in Freetown to for their regional hub meeting. The hub meetings provide a platform for regional affiliates to create and strengthen links across the region, to share and learn from each other, as well as support newer affiliate countries in developing their own local processes. West Africa, the youngest of the SDI regions, is still developing how to best strategically use this space to strengthen and support the region. This meeting focused not only on deepening the SDI rituals that are crucial for federation development, but also key issues facing the region such as forced evictions. Delegates of the meeting were able to see first hand the challenges Sierra Leone is facing. Not far from where the meeting was convened is Kroo Bay, a settlement that has faced multiple evictions over the years and was the site of a recent eviction.
Kroo Bay is one of Freetown's waterfront slums. Slums such as Kroo Bay are situated on land in which the occupants have engaged in the process of land reclamation by slowly adding soil and sand to build up and create new land on the coast. Although this is done with the slum dwellers own resources and time, government frequently claims ownership of this land. According to Freetown City Council (FCC), Kroo Bay is prime land and Government has the mandate to take back the land at any given time. A section of Kroo Bay settlement is built along the boundary of the most prestigious schools in Freetown, The Prince of Wales Secondary School for Boys. This is a school in which many previous officials or those with influence have attended. On Saturday, 25th January 2014 the Alumni Association of Prince of Wales used its influence to hire police, military and other individuals to vandalize and demolish the houses in this area. The action was undertaken on the assumption that this strip of land belongs to the school. However residents assert their claim to this land through the land reclamation process and that their presence has protected the school from flooding and rising sea levels.
As part of the hub meeting delegates participated in a field visit to Kroo Bay. During this time delegates were able to talk to community members and gain a better understanding of the challenges they face. Following these engagements, discussions at the hub focused on how best to move from a reactive response to evictions to proactive strategies that engage local government.
Sierra Leone, as host of the regional meeting, was able to use this platform as a means to strategically capitalize on its engagement with government. In December 2011 the Sierra Leone affiliate began negotiations with local government over the provision of a piece of land for a community-led housing demonstration project to benefit the slum dwellers of Kroo Bay. A series of engagement sessions were held and site visits were conducted. Given the high demand for land within the city centre, government through the Ministry of Lands could not identify a piece of land within the city center and ended up allocating a piece of land (2.5 acres) in Grafton community for the project. After multiple attempts to engage with local government over this piece of land the process had stalled. By hosting the hub meeting the Sierra Leone Federation of Urban and Rural Poor (FEDURP) and its support NGO, Centre of Dialogue on Human Settlement and Poverty Alleviation (CODOHSAPA) were able to demonstrate to local government the power and strength of a network of organized slum dwellers, not only just in Sierra Leone, but also across West Africa.
The Deputy Minister of Lands, Country Planning, and Environment, Hon. Ahmed Kanu, paid a courtesy visit to the hub meeting where he expressed a recommitment to the project on behalf of government and the Ministry of Lands. He expressed his delight to be part of the movement and shared how it fits into the country's "Agenda for Change" program that aims to alleviate poverty, in which affordable housing is a key output. Additionally to show his support a meeting was held the following day to discuss the piece of land as well as an ongoing partnership with FEDURP and CODOHSAPA. A smaller team from the hub attended the meeting with the Deputy Minister and two surveyors to solidify the commitment from the Ministry. At this time the affiliate presented the Ministry with a communiqué calling on the Municipality to support pro-poor policies and practices by working with the federation as well as fulfill its promise and materialize its commitment by providing a piece of land for an affordable housing project. Media personnel were also present and captured the engagement, which ran on the evening news as well as in the local papers.
This momentum has opened doors to the Ministry and they now need to deepen and strengthen the relationship through continual engagement, not only around the piece of land but to strategically include the Ministry as a partner in other projects. Having an ally in the Ministry can allow the federation to scale its activities and projects from a settlement level to a citywide level.
Conversations are currently being held in Sierra Leone to think through how to strategically use this piece of land to promote a pro-poor urban development agenda. How this piece of land and housing demonstration project can be used not only to push the their agenda but to also be a precedent setting project that allows the federation and government to invest in similar upgrading projects across the city as well as in other cities.
Through platforms like the hub, communities are able to share challenges and lessons learned to develop strategies that are responsive to their own local context. More established affiliates such as Ghana and their experience of engaging government around alternatives to evictions can be a tool to others who are still developing their own strategies. Crucial to this meeting was understanding how communities must evolve from short term reactive responses (providing relief after eviction) to a long term proactive strategies to engage and negotiate with government prior to evictions and develop pro-poor inclusive alternatives.